Your roof is one of the largest investments in your home. Not only does a new roof help improve your home value, but it also protects the quality and structure of your property. Whether you are just looking for roofers Canton MI or you are trying to decide if new roofing Canton Michigan is the next home improvement project that you need to address, it's important to know how to extend the lifespan of your new roof after you have hired the best roofing contractors Canton Michigan.
Check Your Gutters on a Regular Basis
The four seasons in Michigan are a wonderful thing, but it's not always great for your roof. As the trees shed their blossoms and blooms in the spring and then their leaves again in the fall, your gutters can easily become clogged. When the gutter is clogged and there's a heavy rain, the water sits on the edge of your roof rather than draining down the side of the house. This can cause the roof to prematurely deteriorate, so it's critical that you clean out your gutters regularly throughout the year. In the event of significant debris, you may need to hire a professional to clean your gutters.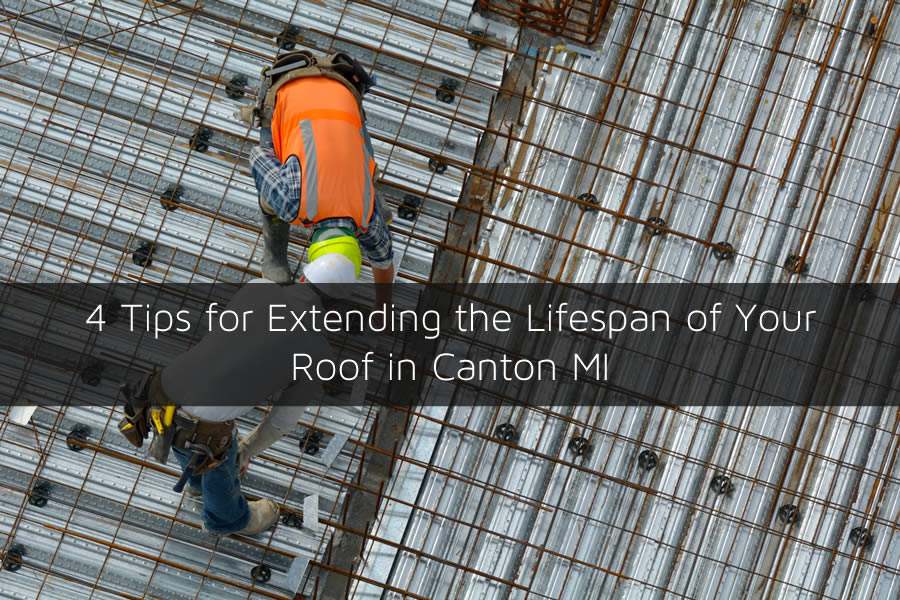 Keep an Eye on Your Roof
After your new roof is installed, it can be easy to take it for granted that everything is in great shape and that you don't have to worry about your roof for a while. However, you still need to keep an eye out for minor issues that can cause major damage over time. If you notice that some singles are curling or that some are damaged, especially after a significant weather event, you will want to consider roofing repair. You also will want to take note of any moss or algae growth on the roof, as this can damage the shingles and cause premature wear and tear on your roof.
Invest in High-Quality Roofing Canton Michigan Materials
One of the best ways to ensure that your roof will last for the longest amount of time is to invest in the right materials in the first place. Qualified roofing contractors Canton Michigan can provide you with information on the most reliable shingles and the premier roofing materials that should be used on homes in this state, which is subject to hot summers and freezing winters. With the right roofing materials on top of your house, you can rest easy knowing you will be safe, dry and protected for years to come.
Schedule Routine Roof Inspections with Roofers Canton MI
Regular roof inspections from roofers Canton MI will provide you with all of the information that you need to know about your roof. The inspectors will point out any issues that need to be addressed in the short-term that will help prevent more significant damage in the future. They also can provide you with the information and resources you need to continue to care for your roof in the years to come. You may want to consider having a roofing inspection performed annually in order to extend the overall lifespan of your roof.
When you hire the most qualified roofers Canton MI, you will feel confident in the roof that is over your head. You'll know that your roofing contractors Canton MI used the finest materials available and have provided you with the most reliable warranty. While some minor maintenance is necessary to preserving your roof and extending its lifespan, you won't have to worry about much with your new roof.
For more information on roofing Canton Michigan and to find out if now a good time to put a new roof on your house, contact us today.