Benefits of using slate roofing in Michigan can help you with your decision. If you are trying to decide what type of roofing material to use on your roof, slate roofing is an option. When people think of roofing materials, they often think about shingle roofs or tile roofs. Many folks never think about slate roofing as an option. However, in some cases, slate roofing is the best option for roofing materials. If you would like to know more about this type of roofing, take a look at the 5 benefits of using slate roofing in Michigan.
5 Benefits of Using Slate Roofing in Michigan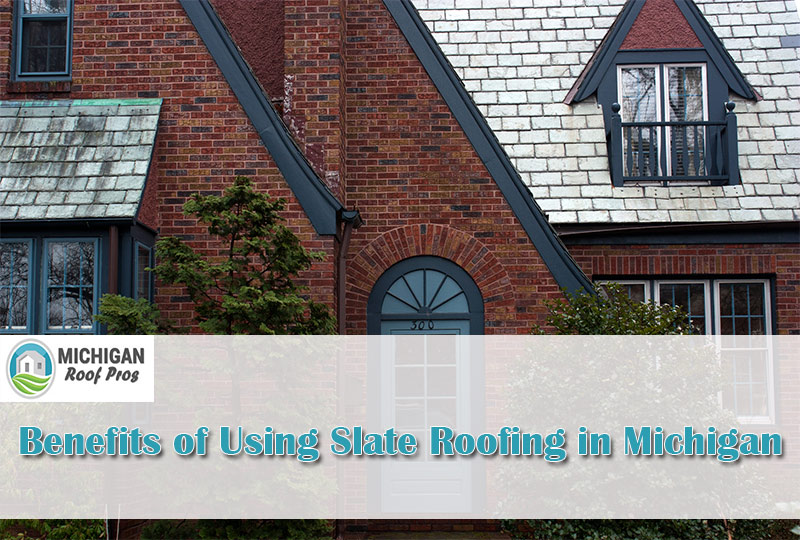 #1 – Slate Roofing Lifespan
One of the benefits of using slate roofing in Michigan is the lifespan of the roof. Slate roofing is one of those roofs that last a really long time. The expected lifespan of a slate roof is anywhere from 75 years to 100 years. When deciding on a roofing material, lifespan is definitely one of those things you want to take into consideration. For example, some shingle roofs only last 20 – 25 years.
#2 – Slate Roofing is Fire Resistant
Another benefit of using slate roofing is the fact that it's fire resistant. This is another important factor you need consider when choosing the right roofing material for you. In you are in an area that experiences wildfires, this is definitely an option you should consider. This is one way to protect your roof in fire prone areas.
#3 – Slate Roofing Options
Another benefit to selecting slate roofing is the options that are available to you. Most people who think about slate roofing think there is only one boring color to choose from, but that couldn't be further from the truth. Actually, slate roofing tiles are available in multiple colors including red, orange, purple and black just to name a few. So if the only thing holding you back is the color and style option, don't let it. There are many to choose from.
#4 – Slate Roofing Weather Resistant
Another benefit of using slate roofing in Michigan is the fact that it is weather resistant. Living in Michigan, we all know how bad the weather can get. Each season, we experience everything from snow storms to ice storms to hail storms to thunderstorms. With the slate roofing, you won't have to worry about damage to your roof because these types of roofs are weather resistant and very durable in any type of storm.
#5 – Slate Roofing Low Maintenance
Some roofing materials require a lot of maintenance. With slate roofing, you won't have any of that to worry about. Slate roofing is a low maintenance type of roof. You won't have to worry about repairs as much or having the roof patched as much because of its strong durability, weather resistant and fire resistant.
Those are the five benefits of using slate roofing in Michigan. Of course, along with the benefits come the disadvantages as well. No matter what type of roofing material you decide to go with, there will be flaws. Some of the disadvantages to using slate roofing are weight, cost, and installation. This type of roofing material is very heavy. Therefore, you will probably have to add onto the frame to hold the weight of the roof. As with most roofs that are durable and last a long time, you will pay a hefty price for the roof. Slate roofs come with a steep price tag, but it is well worth it to some people. Another disadvantage to using slate roofs in Michigan is the installation. Many roofing professionals will tell you, installing the slate roofs are quite complicated and difficult. The slate roofs are so heavy, but at the same time, so fragile, so installing it can be tricky.
Whether you decide to go with slate roofing or another type of roofing material, you will need to take a look at all of the roofing types that are available to you and weigh the pros and cons of each one. For more information on roofing materials and installing new roofs, please take a look around our blog here on Michigan Roof Pros. It is our goal to provide you with the best information, resources and tips that we can.