When your roof starts leaking it can truly turn your home into a danger zone. With water coming in through the roof it can damage almost anything it comes in contact with. That includes the drywall in the home to many other components that are in the home such as televisions and other electrical items. And when your home starts to show signs of a roof leak getting a roofing contractor in Dearborn Michigan to come out and repair or replace the roof is a must. However, know that not all roofing contractors are the same and the differences can be huge. In this article I'll outline some of the things you'll want to consider when hiring a roofing contractor in Dearborn Michigan and give you our choice as to who you should pick. 
Choose the Right Roofing Contractor in Dearborn Michigan with These Tips
As I mentioned above when you have a roof leak that is affecting your home it can really be frustrating. The water that comes into your home from a roof leak can cause all sorts of damage and if it's not repaired and dried as quickly as possible it may lead to other problems such as mold growth. So not only will you need to find a great roofing contractor for your home you'll also need to do it quickly. Sometimes during a small roof leak it may have been leaking for some time and not noticed. If you see the stains starting to form on your ceilings or walls from water damage then chances are the insulation and attic areas are already affected and could be damaged. Sometimes these problems can be fixed with simple roof repair but sometimes you'll need a completely new roof installed in Dearborn Michigan. In either case, you'll need to find the best roofing contractor available and one experienced with your roofing type and material.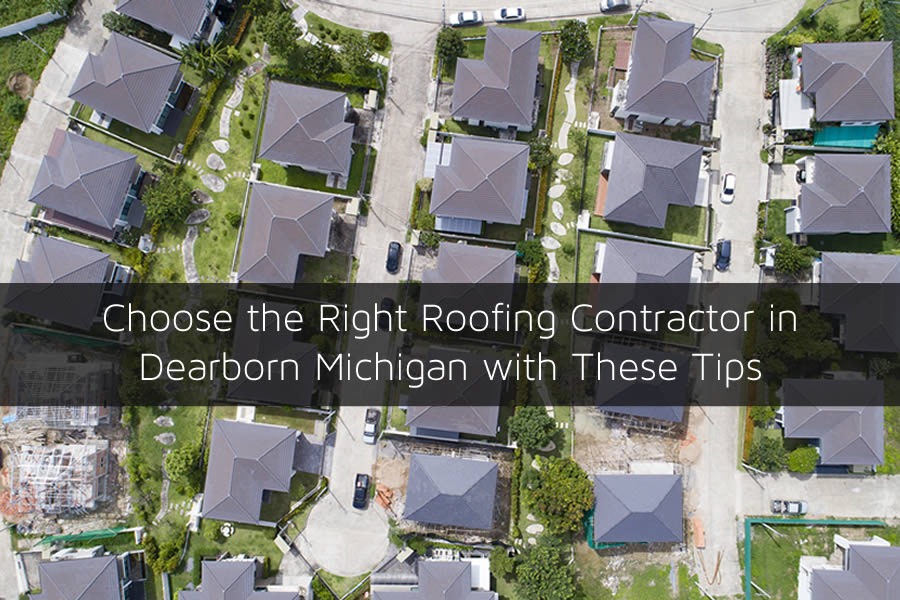 Always Use a Fully Licensed and Qualified Roofer in Dearborn MI
One of the biggest problems for many home owners after they have a roof installed is getting service for that roof. The biggest problems they will usually have is because of improper installation of the roofing materials. Even if you were given a warranty with the roofing materials that you purchased it may not be honored if the roofing materials were improperly installed. So hiring a contractor that doesn't install the roofing right and you could be replacing your roof again in just a few short years without the help of a warranty. Licensed and qualified roofing contractors will install roofing materials to manufacturers specifications to ensure they are under warranty. Usually there are certifications from roofing manufacturers as well giving you more information on how well the roofer knows the product and correct installation procedures. Always use  a licensed roofing contractor for your roofing project.
Does the Roofing Contractor Also Give a Guarantee?
Knowing that you can actually have your warranty voided on improper installation from the roofing material manufacturer it's also a good idea to ask the roofing contractor. Some roofing contractors will offer a guarantee on the roof for a period of time. Sometimes this guarantee will require things such as regular roof inspections annually or bi-annually. It's also a good idea to get this guarantee in writing as well or included in the contract before the roofing project begins.
Do You Have a Choice in Roofing Methods or Materials?
Today there are hundreds of different styles and designs when it comes to roofing materials. Couple this with the fact that there are also different levels of quality for each product along with multiple manufacturers. Some roofing contractors in Dearborn Michigan will only use a specific type or model of roofing even if it's different from your home's needs. Getting a roof contractor that will allow you, the customer, the chance to pick the roofing material is a must. There are also different methods that can be used when getting a new roof installed in Dearborn Michigan. They include re-roofing and tear off and installation. Provided your current roof only has one layer of asphalt shingles you should be able to choose which roofing method the roofing contractor will use on your home's new roof installation.
Ready to Get Started? In order to get started on your home's roofing project be sure to call one of the best roofing contractors in Dearborn Michigan which is All Point Construction. They offer free estimates and are fully licensed and insured.
Give All Point Construction a call today at 734-407-7110