Having a commercial building means you'll need to take care of the roofing system that it has installed. When there is a problem however you'll need to make sure you take some critical steps to ensure your roof still protects your building and business. At Michigan Roof Pros we decided to feature this article about some tips for commercial roofing in Michigan tips to give business owners a better idea of roofing systems available to them and also what they should be on the lookout for. 
Commercial Roofing in Michigan Tips
When you have a commercial building that needs a new roof or roof repair in Michigan it's much more than just a residential roof. Since commercial building roofs can be much larger and different types of roofing systems are used they are much different than standard residential roofing. In this article I'll go over some tips on getting the best commercial roofing in Michigan to help you get the right roof on your commercial building.
Get the Right Type of Roofing
Commercial roofing systems are much different than residential systems. They are usually much larger and include materials such as rubber roofing or flat tar roofs. The materials used can vary greatly depending on the type and size of the roof. Although there are many types of roofs that can be used on commercial buildings as listed here. Most of them are not common in Michigan for commercial buildings. When you're getting a new roof in Michigan most times the materials used are one of the following:
Metal Roofing
Shingle Roofing
Asphalt Roll Roofing
Rubber Roofing
Tar or Tar and Gravel Roofing
Although these are different materials each one these materials can have many different styles. In fact, each of these materials can have many different styles and colors which can make the choice for your commercial building more difficult. Many times it's best to install a roof that is like the previous roof but you can change things like roofing color to make it stand out more. You may also be able just install a new roof over the existing roof depending on the style and material of the roof being installed.
Make Sure You Hire a Roofing Expert to Handle Your Roofing Work
Roofing for residential or commercial buildings should be handled by experts. Having someone on top of your commercial building that doesn't know what they are doing could spell disaster for your business if something were to happen. If you're planning on getting a new roof on your Michigan building then be sure to get a qualified roofing expert to work on your roof. Many of the roofing supply companies will offer certifications for installing their products.
The problem with getting a roofing company that is not certified to install a particular type of roofing for your commercial building is the warranty that is offered. Most roofing products have a warranty that offers replacement if the roofing material fails in a certain amount of years. If the roofing materials was not installed by qualified installers the warranty may be void. Be sure to inquire about the warranty that will be installed on your commercial building in Michigan.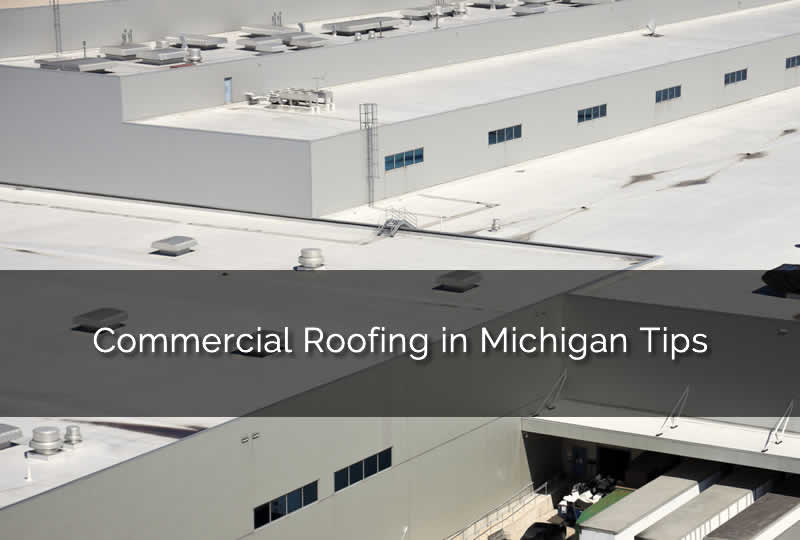 Always Opt for a Roofing Inspection First
If you're unsure of the type and material used on your roof you can always request a roofing inspection. In fact, sometimes a roofing inspection can give you a better idea of how bad of shape your roof is in. Sometimes if you're using a tar roof you can just re-tar the roof and add gravel to repair an old roof. However, without a roofing inspection you may not know what type of roof, material used, and other important features of the roof.
Many times if you're getting a new roof installed the roofing company will want to do an inspection of your roof. A roofing inspection can reveal lots of things that are on your roof. Size and roof penetrations such as pipe can play a huge role in how much a new roof is going to cost. Many times when you're getting commercial roofing in Michigan the cost will be a bit higher than residential simply because more manpower is needed and there may be special requirement or permits needed for the roof. Getting a price on a new roof is a must if you're looking for commercial roofing in Michigan.