Are you thinking about getting a new roof installed on your Michigan home and want to know the new roof material options you have? Then this guide can help you! There are many different types of roofing materials for you to choose from for your new roof in Michigan and which roofing material you decide on will come down to your taste and budget. Have a look at this guide for a better understanding of the new roof material options that are available to you.
New Roof Material Options Guide for Those in Michigan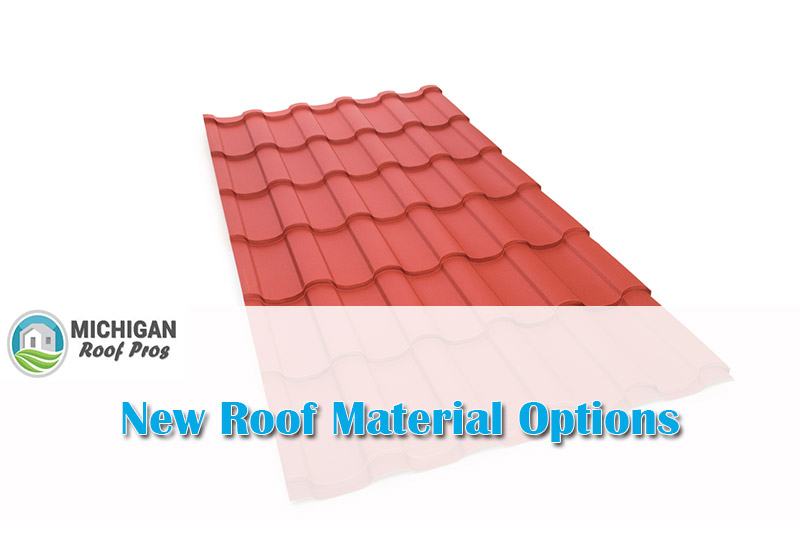 There are many types of roofing materials available to those living in Michigan. The type of material you decide on will depend on what you like and the budget you have for a new roof. Some roofing materials are a lot more expensive than other roofing materials. Once you choose a material you like, you can discuss your options further with the roofing contractor in Michigan that you have hired. Here are the basic roofing materials available to you in Michigan:
Metal Roofs in Michigan
Metal Roofs in Michigan have become quite popular over the last few years for residential homes. In the past, metal roofs were mainly used on businesses, but due to the resistance a metal roof provides, many homeowner have started installing this type of new roof on their homes. Metal roofs are available in copper, stainless steel, aluminum and zinc. They come in shingles and panels. Here are a few pros to using metal roofs in Michigan:
Fire Resistant
Weather Resistant
Long Lasting
Lifespan is anywhere from 40 to 80 years
Termite Resistant
Many styles and colors to choose from
Asphalt Shingle Roofs in Michigan
Asphalt Shingles are one of the most popular roofing materials used in Michigan and throughout the United States. The reason being, asphalt shingles are easy to install and are fairly cheap in price. Although asphalt shingles are cheap, the lifespan is only about 20 years or so. If you have a smaller budget, this may be the type of roof you will need to consider. Here are some pros to using asphalt shingles in Michigan:
Variety of colors are available
Inexpensive
Easy to Install
Goes with any style home
Wood Shingle Roofs in Michigan
Next up on the new roof material options guide are the wood shingles. This type of roofing material has been around for hundreds of years. It is a popular choice for those looking to achieve the rustic look on their homes. The wood shingles are natural and are usually hand cut from southern pine, cedar and redwood. As you can imagine, being hand cut, this type of roof is quite expensive. Wood shingle roofs last about 20 – 25 years. Here are some pros to using wood shingles in Michigan:
Provides a natural, rustic look
Shingles are cut from cedar, southern pine and redwood
Doesn't decay easily
Clay and Concrete Tile Roofs in Michigan
Clay and concrete tile roofs have been around for a long time. This type of roofing material is very durable, but it is also very heavy. Clay and concrete tiles must be installed by a professional. This type of roof material normally requires extra framing because of the weight. It is also quite expensive. Here are some pros to using concrete and clay tiles in Michigan:
Very durable
Weather resistant
Long lasting
Energy efficient
Non-combustible
Lifespan is about 40 to 55 years
There are a few more types of roofing materials. However, these are the most popular types. Once you meet with a roofing company to discuss your roof, the contractor will further discuss the different types of roofing materials you have to choose from and they will further discuss the pros and cons of each type of material. This new roof material options guide will give you a better understanding of what's available to you and help you better decide what is right for you.
If you need more information on new roofs, residential roofs, commercial roofs, skylights, and other roofing topics, please see our main blog at Michigan Roof Pros to find more articles on these topics. We are here to provide you with resources and information to better help you with your journey in roofs.