It can start with just a small spot on your home's ceiling in which a brownish stain appears. Or maybe you've got a gaping hole in your roof letting water pour in. In either case, you'll likely need to have a roof repair at the very least. And if your roof is failing then you'll need to have a roof replacement done on your home which can be expensive. Having a reputable roof contractor in Downriver Michigan install a new roof on your home can be expensive but there are some things that you can do to save money on the roof replacement which I'll go over in this article. 
Save Money on Your Next Roof Replacement in Downriver Michigan
For most homes having a roof replacement done can be thousands of dollars. Even for a small home the costs can still range higher than $3,000. Of course the cost of the new roof installation will vary greatly on a variety of conditions and choices. Also the size of your home and pitch of your roof will factor into the cost of the new roof installation. There are some choices that are up to you that you can use to your advantage and get a less expensive roof. All of the tips in this post can be done while still allowing you to have a completely new roof after the project is complete.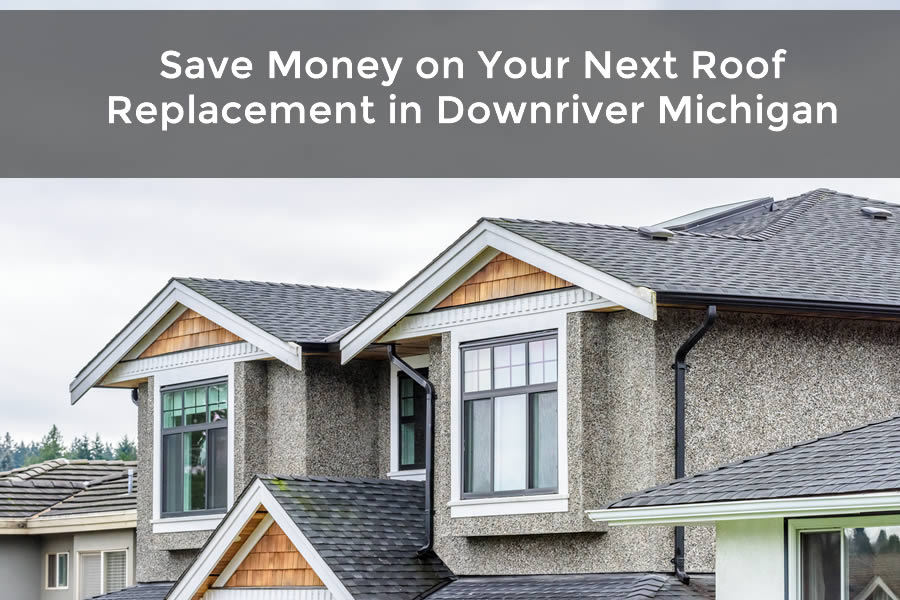 Consider Getting Your Home Re-Roofed
A great way to save money on your roofing project is to use a technique called re-roofing for the new roof installation. When your home is re-roofed basically a new layer of asphalt shingles are placed on the existing roof. Most of the old roof is left in place and never removed from the home. Because the old roof is left in place and not removed it also removes a lot of the labor costs associated with removing the old roof. Not only that but you'll also have less debris that will need to be removed as well which can save money also. As an added benefit of getting your home re-roofed the time frame of getting a new roof installed is also cut down considerably and a new roof can be installed in as little as a single day on some homes.
Use 3 Tab Shingles on Your Roof
Today there are many different roofing material manufacturers. Each of these roofing material manufacturers have a complete line of products which includes many different styles and qualities of roofing shingles. One of the most economical roofing materials that is offered by many manufacturers is a type of shingle called 3 tab shingles. Three tab shingles are offered by almost all of the roofing material manufacturers today. The warranty on three tab shingles is typically around 15 years but can be as much as 25 years for some manufacturers. One of the drawbacks of three tab shingles other than the shorter warranty is they don't look as defined as other shingles such as architectural shingles. However, three tab shingles will give you a completely new roof at a lower cost.
Plan the Project Before You Need It
In Michigan the ideal time to have your home's roof installed is during the spring and summer. During this time roofing manufacturers are almost always busy and sometimes choosing a time to have your roof installed can be a few weeks away. Ask your roofing contractor about discounts available for having the roof installed at odd times or during weekends. Some will give a discount if you can have the roof installed when it's best for them.
Consider Getting the Roof Financed
Although getting a new roof installed can be expensive it's usually a needed expense. One way many home owners today are getting a new roof installed is by using financing on the roofing project. Be sure to check into roof financing to help get your roof installed for a small monthly payment.
Start with a Free Estimate from Downriver Roofers
If you're looking to have a roof installed on your Downriver Michigan home at a great price be sure to call the roofing experts at Downriver Roofers. Downriver Roofers is a fully licensed and qualified roofing contractor in Downriver Michigan and offers free consultations on roofing projects in this area.