The roof on your home is one of the major components of the home. In fact, if something happens to the roof on your home it can affect the entire home and cause all sorts of problems. That's why making sure you get the best roofing contractor in Michigan is so important. In this article I will go over a few things that you'll want to know before hiring a roofing contractor in Michigan. This guide will ensure that you aren't ripped off or hiring a contractor who will take your money and run. And yes, believe it or not, that has happened to a few people right here in Michigan!
Things You Need to Know Before Hiring a Michigan Roofing Contractor
Protecting your home from weather is something that the roof should do on your home. But when it's not installed correctly or things aren't up to specifications it can lead to your home getting damaged by water. Getting a qualified roofing contractor in Michigan to make sure your home's roof is done correctly is something that you should be considering when getting either roof repair or roof replacement in Michigan. The following tips are not in a specific order and you'll need to make sure that your roofing contractor in Michigan follows these guidelines.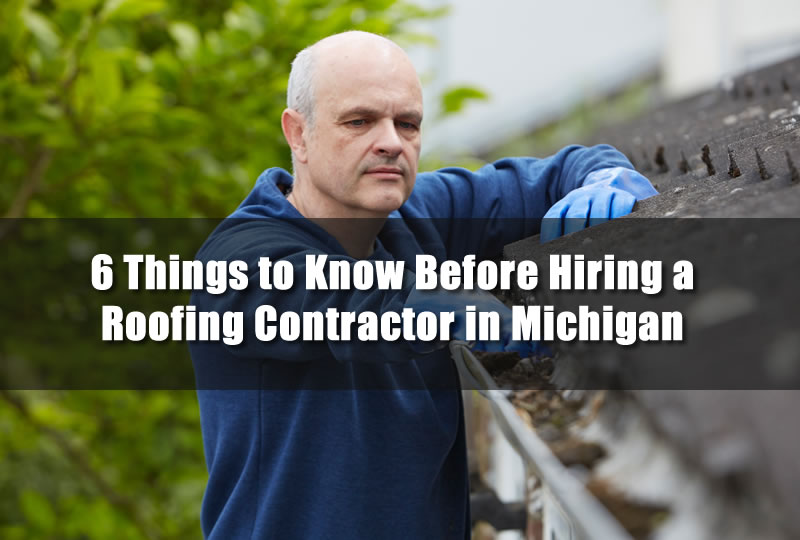 1 – Use Local Contractors for Your Roofing Project
During storms that can damage lots of homes there will be roofing contractors that are in the area just for a short time. Basically, they can get business from the storm damage but aren't local roofing contractors. Hiring a roofing contractor that isn't local can lead to problems later if you have problems with the roof.
2 – Inquire About Warranties on Materials
Almost all roofing materials that are sold today come with some type of warranty. Ask your roofing contractor about warranties on materials that will be installed on your home's roof. Typically, some contractors may also offer warranties on labor if the roof fails. In either case, make sure you get warranty information in writing and keep it in a safe place in case you need it later.
3 – Use Fully Licensed Roofing Contractors
A roofing contractor needs to be properly licensed and certified in order for warranties on your roof to be honored. Using roofing contractors that aren't licensed and qualified may lead to your roofing warranty to be void. Make sure the roofing contractor that you choose to work on your home's roof is properly qualified, licensed, and insured. You'll also want to ensure they get all the correct permits for the roofing project depending on the area in Michigan your home is located in.
4 – Time Frame Can Be Important
Many roofing contractors will offer an estimate on your home's roof but not many of them will include the time frame needed for roof replacement. When speaking with a roofing contractor be sure to inquire about the time frame needed and when the job will start and be completed. Some contractors will start a project only to leave for weeks at a time, this is not good for your home but it ties you to the contractor since the job is already started. Get a time estimate as well as a price estimate.
5 – Quality of Service
Make sure the roofing contractor in Michigan offers quality service. Check their previous projects and ask about their policies in case there is a problem later. Learning about their previous work can shed lots of light on the quality of service they offer. Customer service is a huge part of any business and the roofing industry it is also important.
6 – References and Knowledge About Your Roof Type
No matter what type of roofing material you have installed on your home whether it's asphalt shingles, metal roofing, tile roofing, or anything else you'll want to make sure the roofing contractor you choose has experience and knowledge in that area. Many roofing material manufacturers will offer certifications for roofing contractors which you can also inquire about. Check references of others who have had similar roofing installed on their homes to get a better idea of the quality that the roofing contractor in Michigan offers.
Get a Free Estimate on Your Roofing Project
Now that you know just what to look for in a roofing contractor in Michigan be sure to contact one of the best for a free roof estimate on your home. All Point Construction is a fully licensed roofing contractor in Michigan and hold certifications in many of today's most popular roofing systems.
Give All Point Construction a call today to learn more about their service at 734-407-7110
_____________________________________________________________