Getting a new roof installed on your home can be a major home improvement project and one that should not be taken lightly. Even for small roof repairs that may seem insignificant you'll want to make sure you use the right roofing contractor in Walled Lake Michigan so that your home is protected and will continue to protect you and your family from weather. It's difficult for home owners to choose a roofing contractor simply because having a new roof installed on your home isn't something that happens often and many times home owners are confused about their choices when it comes to getting a new roof installed. Here are some tips to help you pick the right roofing contractor in Walled Lake Michigan for your new roof installation or roof repair. 
Tips for Choosing the Best Roofing Contractor in Walled Lake Michigan
When it comes to getting a new roof installed or just getting simple roof repair choosing the right contractor to do the work is essential to getting a good job done. There are many choices when it comes to getting a roofer in Walled Lake Michigan but they aren't the same and choosing the wrong roofer for your home may put your home at risk of damage because of a roof leak. Worse yet, hiring the wrong roofing contractor could completely void the warranty on your entire roof. Be sure to follow the below tips to ensure your home is protected now and in years to come.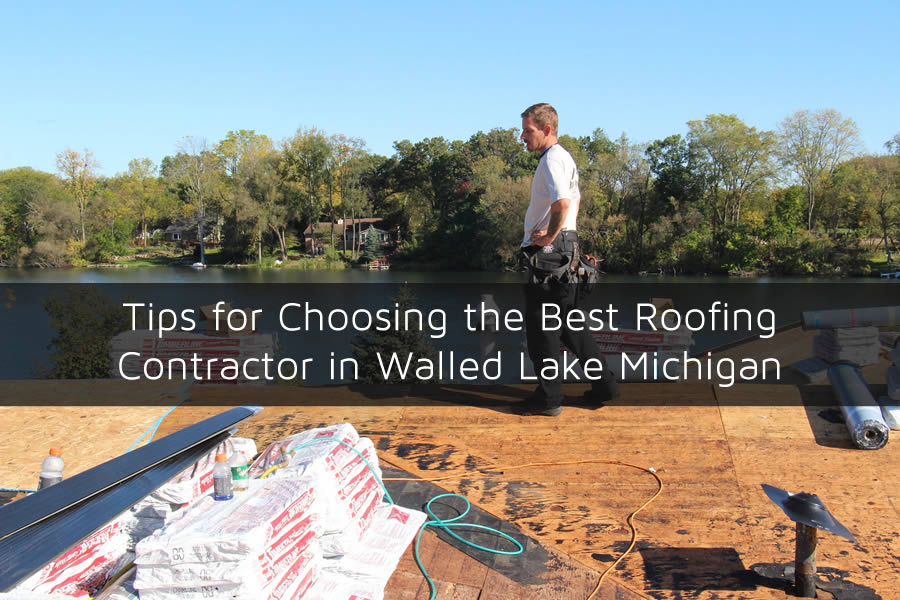 Always Choose a Licensed Roofing Contractor for Your Roof Repair or Replacement
Any type of home improvement project done on your home needs to have a fully licensed and insured contractor to do it. This includes roofing, probably more so than any other home improvement project. The reason why it's so important is that you'll want to ensure things are done correctly. This means having the products fastened to the roof correctly and ensure everything is done according to local building codes as well as manufacturers specifications. Installing a roof incorrectly can void the warranty on the roof no matter how old it is and you could be faced with installing a new roof right after the one you just had installed if you choose a roofing contractor that isn't properly qualified.
An Experienced Roofer is Better
The roofing industry is filled with companies that are fly by night type of operations. They stay in business only a short time and during that time take on almost any type of roofing work. Usually they aren't qualified for the roofing work they are doing and lack the experience to do the job correctly. While it's possible that your roof will be installed correctly, do you really want a roofing company experimenting on your roof and basically learning at your expense? Choose a roofing contractor with years in the industry for best results.
Does the New Roof or Roof Repair Have a Warranty or Guarantee?
Roofing material manufacturers will attach a warranty to the products that they sell provided they are installed correctly and by licensed professionals. But sometimes roofing companies will also offer incentives and other guarantees in addition to this warranty. Be sure to ask about additional guarantees and be sure to get any warranty or guarantee information in writing.
Check Online Reviews and Ask the Roofer About Their Portfolio
Most roofing contractors in Walled Lake Michigan have a portfolio of the work that they have completed. You may even notice signs in yards of their previous projects. Ask your roofing contractor about some of the work that they have previously done. Most keep a binder with old projects that help to convince potential customers they are right for the project. Look for homes like your with similar roofing materials for better idea of the work they do. You can also go to websites online and look at reviews on places like Facebook, Yelp, or Google. Past customers can leave reviews for others to read and get a better idea of just how well the company performs and it can also give you an idea about customer service from the contractor as well.
Get an Estimate on Your Roof Before Signing a Roofing Contract
Before starting any type of roofing project it's always best to first get an estimate. An initial estimate can help you determine many things about the project including pricing. One of the best roofing contractors in Walled Lake Michigan is Roof Rite which offers free estimates and has over 16 years of experience. Give Roof Rite a call today at (248) 668-9151 to learn more about their services and to get a free estimate.