Michigan Roof Pros is a leader in knowledge when it comes to roofing installation, shingle repairs, roof maintenance and roof replacements. In the counties of Wayne, Livingston, Washtenaw, and Oakland there are many roofing companies that are advertising heavily…given that, how do you choose? Every week, our experts post blogs on a variety of home improvement subjects to help empower and enlighten homeowners to make the best choices for their property renovation projects in Southeast Michigan.
There are a lot of aspects to consider when you're researching roofing companies in your town, one of which is roofers that offer leak-free guarantees. We found three that are top notch in our opinion, and here they are: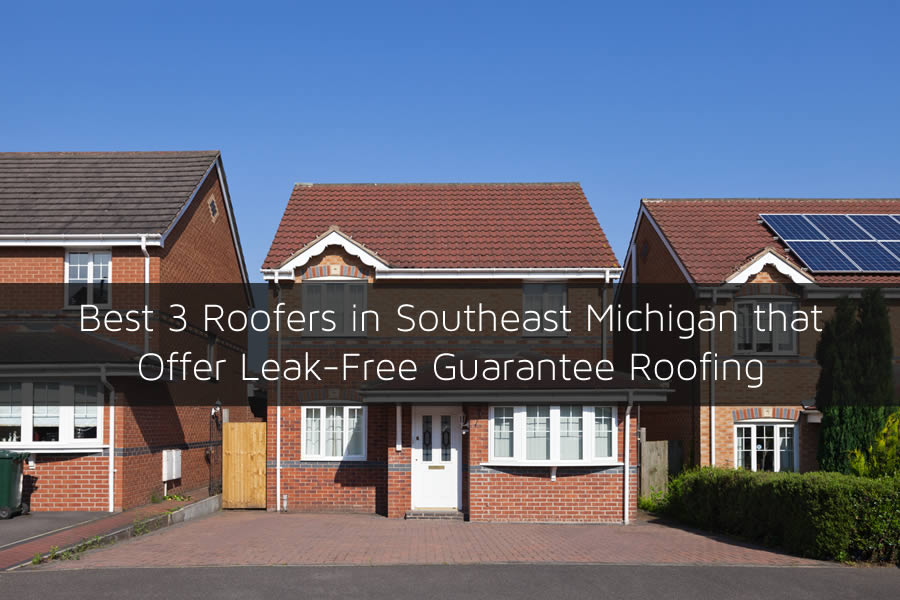 Allpoint Construction: in business since 2014, this esteemed home improvement company specializes in roofing installation, 3-D design and planning, roofing repairs, roof replacements, and many other areas including windows and doors, masonry, tiling, flooring, bathroom remodels, porch overhangs, doors, and much more. Owner Tom Krechnyak is proud to be endorsed by Angie's List and top-rated by the Better Business Bureau. They provide 10% off discounts for seniors and veterans, and offer a leak-free roof guarantee for all roof installations and replacements, as well as affordable financing plans and credit option.  Take advantage of their no-risk roofing inspection and call them at 734-407-7110.
Rapid Roofing: Owners Bill and Mike Beaty learned the roofing business from their father, and continue to demonstrate the same work ethic as he did. Launched in 2000, Rapid Roofing is an A+ rated roofing contractor with the Better Business Bureau. This exceptional company has been endorsed as a GAF Mater Elite Contractor for nearly 20 years. Always offering free roofing inspections, this company will give you a great deal on a new roof, tear-off, one-day roof installation, roofing repairs or roofing replacement as well as a no-leak promise.  Call 734-895-9553 for their famous 17-point roof and attic inspection today.
Roof-Rite: Roof-Rite is your go-to roofing company in Oakland County. Owner Jim Brown started the company in 1999, and has grown it into a reputable enterprise serving Southeast Michigan. Specializing in new roof installation, shingle repairs, gutters, siding and insulation, this versatile roofing contractor benefits from repeat business every day. Roof-Rite offers a wide range of shingle styles, including architectural, luxury and basic 3-tab shingles. They are an Owens Corning Preferred Contractor, a CertainTeed ShingleMaster, and an IKO ShieldPro Plus+ Contractor.  They are known for their high-quality roofing materials, superior quality, and outstanding performance. All Roof-Rite roofs come with a leak-free guarantee.
You can trust these roofing contractors
Michigan Roof Pros doesn't recommend any roofing company that is unlicensed, uncertified or uninsured. We put our name and reputation on the line every time we refer customers to companies like these.  We know how important credentials, financing and craftsmanship is to homeowners in Southeast MI. They're looking for great prices, but also for efficient and strong roofs that will outlast any storm our state has to endure. If you have a flat or metal roof, or a more traditional one, we can help get you started in your quest to find the perfect roofing company.  No leaks should be a given in the contract you sign, as well as:
Friendly customer service
Budget-friendly financing programs and easy credit acceptance
Lifetime roof warrantees
Emergency roofing services and fast response time
Call one of these credible MI roofing companies today for your next roofing project. It's never too late to add to the increasing value of your home – and once you get started, it can become addictive – setting up home improvements that will give your home the "wow" factor. Just be sure to stop by our website and learn more about the requirements needed to pull roofing permits, the codes involved, and type of inspection you'll need once your new roof is installed. The more you learn about the process and your options, the better off you'll be. We don't want you to hire an unscrupulous contractor, one that will take advantage of your lack of knowledge. Keep visiting our site weekly for more tips on how to find the perfect roofing company.