There are a few commercial roofing tips you really need to know if you own a business and need a new roof, or if you are planning to build a new business. As far as the structural part of your business, the roof is the most important part of your business. If the roof is damaged, caving in, or looks bad, it will affect the rest of your business. If you hire the wrong roofing contractors, you could be wasting your money. It's important to hire a roofing contractor in Michigan that is licensed and insured to do roofing work. It is important that you hire a contractor that has a reputation to back up what they offer. It is also important to have your commercial roof inspected once a year or after bad weather.  Take a look at the following commercial roofing tips to get the most out of your roof and roofing experience.
Commercial Roofing Tips You Need to Know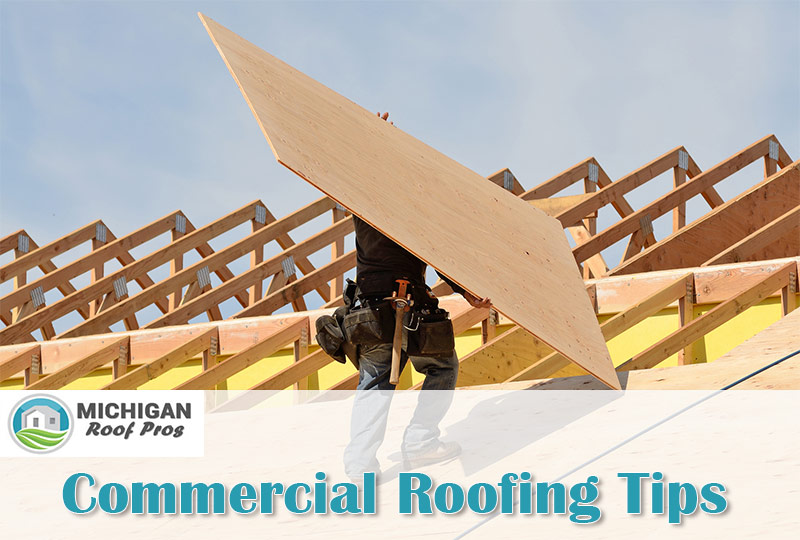 Hiring a Commercial Roofing Contractor
If you are building a new business and you need a new roof built, it is important to find the best commercial roofing contractor you can. Hiring a roofing contractor that is not licensed, insured, bonded, and up to date with that they are doing can result in a disaster for you. You could end up with a roof that is faulty and will collapse any time. You could also end up paying a roof contractor and lose your money when they don't show up. So, in order to hire the best roofing contractor in Michigan, you need to do your homework. Find out these things:
Is the company licensed?
Is the company insured?
Can the company provide references and a portfolio?
Does the company offer a guarantee or warranty?
Are the contractors certified in the latest roofing?
Does the roofing company use high quality products?
Does the company have good reviews online?
Are they willing to sit down and discuss what you want?
How's the customer service? Are they friendly? Eager to help you?
Call the Experts for Roof Repairs
If you need commercial roofing repairs, call the experts. Never try to do the repairs on your own. If you try to do these repairs on your own, you may find yourself really hurt. If you see that you have damage to your commercial roof, find a reliable contractor to come out and inspect it for you. Most roofing contractors will provide you with a free roof inspection in Michigan and then from there, discuss the problem with you and how to proceed.
Taking Care of Your Commercial Roof is Important
If you already have your roof built, it is important that you take care of the roof. You need to have regular inspections done on the roof and you need to find a reputable roofing contractor to perform these inspections for you. Not only is climbing on your roof dangerous, but having a trained eye to do the inspections will be better because they know what to look for. You also need to listen to what the contractor says and do as they say. This will help keep your commercial roof in tip-top shape.
Choose a Roofing Material that Will Last
Many people will go with the cheapest roof material available on the market. Don't do that! Your business will be your main source of income. It is very important that it looks great while also lasting a long time. So, don't necessarily go with the cheapest material available. Take a look at your options and weigh the pros and cons of each one.
I hope these commercial roofing tips have helped you a little. To learn more about roofing, take a look at the other articles on our site. We cover everything from commercial roofing to roof inspections to re-roofing. Michigan Roof Pros are here to help you find the best roofing contractor in Michigan and provide you with useful roofing information. We are here to look out for your best interest. Please visit our other posts for more helpful information. If you have a question, please feel free to use our contact page to contact us. We will gladly help in any way we can.