Has the roof on your home started to fail? When you have roofing problems occurring on your home it can cause all sorts of damages to the inside of the home. Water damage from a roof leak can cost thousands of dollars of damages in the home. That's way when you have a roofing problem using fully qualified roofing contractors in Southgate Michigan is a must to ensure the roof repair is done correctly. When you need a full roof replacement on your home you'll still need to use fully qualified roofers in Southgate Michigan but there are a few more things you'll also need to consider as well. In this article I'll go over some of the things that you'll want to know about the roofing contractor that you choose to work on your home's roof. 
Using Roofing Contractors in Southgate Michigan for Roof Replacement
Here in Michigan the weather can play a huge role in how well your roof performs. From the ice, hail, and snow in winter to the thunderstorms with winds and rain in summer it seems as if your home's roof is always under attack from the weather. There isn't much we can do about the weather but having a properly installed roof on your home can help to protect it through this weather. In order to make sure your home's roof is installed correctly you'll want to use qualified roofing contractors in Southgate Michigan which I'll help you to determine with the tips below.
Is The Roofing Contractor Properly Licensed and Insured?
A good roofing contractor will be properly licensed and insured to work in the Michigan area. Without a properly licensed roofing contractor working on your home's roof you may receive work that isn't up to standard and fail prematurely. Also if something happens during the installment of the new roof you'll want to know they have safety in mind and you are protected just in case something happens. No one plans to get hurt while working on your home's roof but it can happen and you'll want to know you're protected and the roofing contractor is properly insured to work on the roof.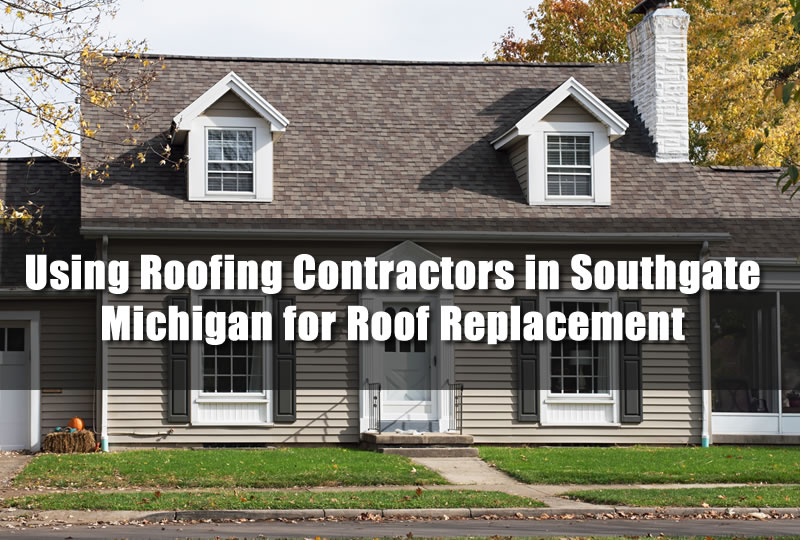 Use a Reputable Roofing Contractor for Roof Replacement
With many sites online today getting reviews about a roofing contractor is easy. If a roofing contractor doesn't have many reviews or doesn't have a website be sure to check out some of the past projects. Using a reputable roofing contractor in Southgate Michigan can help to protect you from a company with poor customer service.
Roofing Options Given by the Roofing Contractor
For homes with asphalt shingle roofing there are basically two methods to replace the roof on your home. The two methods that are commonly used are called re-roofing and tear off installation. Make sure the roofing contractor that you choose to install your new roof offers the roof installation method that you choose. Both methods will give you a new roof after the install but they are hugely different in price. There are advantages and disadvantages to each of these methods. In either choice you'll want to make sure your roofing contractor offers it however.
Contract and Warranty on Roofing Materials
Before the work starts on your home's roof you'll need to make sure everything that was discussed about the roofing project has been included in the roofing contract. This contract will not only protect the contractor but it will also protect you. If there is a disagreement then you'll have a document to prove what was offered. This paperwork also needs to include details on the roof warranty. Most roofing manufacturers today offer a warranty on installed roofing materials on the home. Getting this warranty in writing can protect you years from now in case there is problems on the roof.

Getting a Free Estimate on a New Roof Installation
If you're ready to get a new roof installed on your Southgate Michigan home then be sure to get a free roof estimate today from Downriver Roofers. Downriver Roofers is one of the best roofing contractors in Southgate Michigan and offers estimates on roof repairs and installation.
Contact Downriver Roofers with the details below:
DownriverRoofers.com
5500 Wilson St Trenton, MI 48183
contact@downriverroofers.com
734-548-9919